News
TNB launches energy efficiency campaign


KUALA LUMPUR, April 3 (Bernama) -- Tenaga Nasional Bhd (TNB) is launching an Energy Efficiency (EE) campaign to remind and educate Malaysians on the significance of environmental sustainability through power saving.
In a statement today, TNB said the campaign was aimed at steering transformation towards a future energy ecosystem that delivered a balance between environmental sustainability, secure and reliable energy supply, as well as optimal economic development.
The national utility company said the message was especially important, as last month, the country experienced some of the highest temperatures over the past few years, prompting a higher usage of air conditioners, fans or coolers which led to higher consumption of energy.
"Given the increasing demand for energy at this time, and even globally, we believe more efficient energy usage is possible with a change in energy consumption behaviour which possibly necessitates a mindset shift, said its chief corporate officer Datuk Wira Roslan Ab Rahman.
According to TNB, a disparity exists in the adoption of energy-saving behavioural patterns amongst Malaysians and other parts of the world.
"Findings indicate that Malaysians are more apathetic towards the conservation of power, and according to the World Economic Forum's Fostering Effective Energy Transition 2018 report, we score pale in comparison certain Western countries like Norway, Switzerland and Sweden," it said.
TNB said the study also showed that mindfulness of energy efficiency and adoption of power conserving methods, plus readiness for transition for secure, sustainable, affordable and reliable energy future was about 15 per cent higher in these countries, allowing those economies to make strategic energy investments towards environmental stewardship.
"Current energy consumption patterns and associated environmental pressures have ignited the Malaysian government's concerns regarding energy conservation," it said.
With that, it said the Energy, Science, Technology, Environment and Climate Change Minister Yeo Bee Yin, had highlighted that a regulatory framework, Energy Efficiency and Conservation Act (EECA), would be put in place to renew the National Energy Efficiency Action Plan, which was set out to achieve eight per cent energy efficiency by 2020.
In efforts to set the tone, it said the ministry committed to retrofit 50 government buildings with energy efficient light emitting diode (LED) lightings and high energy efficient value (EEV) appliances, with an expectation that this would lead to a savings of RM47 billion over 15 years.
TNB chief strategy and regulatory officer Datuk Fazlur Rahman Zainuddin said Malaysia was currently at an interesting and important juncture of energy efficient evolution.
"As the energy industry continues to evolve, TNB has become increasingly aware of the need to meet the global energy challenge and support the transition towards a low-carbon economy," he said.
With TNB having the ability to play a significant role in much of the ongoing change, Fazlur Rahman said it took upon itself the responsibility to balance this shift, although no single government, industry or institution can address the challenges alone.
Having contributed to the nation's development, TNB said its intention was to enhance its capabilities and stay abreast of the transition towards a low-carbon economy by promoting renewable energy generation, embracing new technologies throughout the operations and empowering customers to make better use of their power usage through energy efficiency.
Fazlur Rahman said energy is at the heart of modern economic prosperity, and EE was believed to be the first leg of a sustainable global energy ecosystem, and like most things, this too begins at home.
"I believe it could be the first step towards mitigation of climate change, better energy security, growing green economies and delivering solid environmental benefits," he added.
While TNB stresses on the importance of energy efficiency to its 9.1 million customers, through the introduction of product innovations in energy technology like the smart meter, Maevi® and GSPARX® to Malaysian households, it recognises these technologies as the first big step of empowering customers towards the sustainable energy industry of the future, beyond instilling environmental consciousness into the minds of Malaysians.
The company also actively adopts efficient technologies, and ensures that even the older plants are properly maintained and where possible, to be upgraded to maintain their efficiency.
For an example, it decommissioned inefficient and ageing Combined Cycle Gas Turbine (CCGT) plants and replaces them with cutting-edge combined cycle gas turbine technologies enabling the plant to achieve generation efficiency of up to 60 per cent.
"Additionally, six of TNB's distribution buildings are selected as models of energy efficient buildings in the country," it said, adding that under the ASEAN Energy Awards, Wisma TNB Jalan Timur was awarded first-runner up under the Energy Management for Buildings and Industries Awards in the Large Building Category, for demonstrating excellence, creativity, practicality and dedication in the field of energy efficiency.
TNB said the initiative enabled the company to reduce up to six per cent of energy consumption in the building.
"We believe it's the small steps that give us the eventual mileage, and sustainability lies at the core of all that we do and is embedded in our company policies and inextricably linked with our business strategy and decisions," said Roslan.
He reiterated that TNB's mission was to continue contributing to the nation's development by providing Malaysia with safe, secure and reliable energy.
"Having said this, we anchor our operations on an identified strategy; embracing green initiatives throughout our business, from managing our own carbon footprint to providing clean energy products and services to customers," it added.
-- BERNAMA
Other News
Malakoff Bekerjasama Dengan Syarikat Dubai Tinjau Peluang Berkaitan Loji Kuasa Fotovolta Solar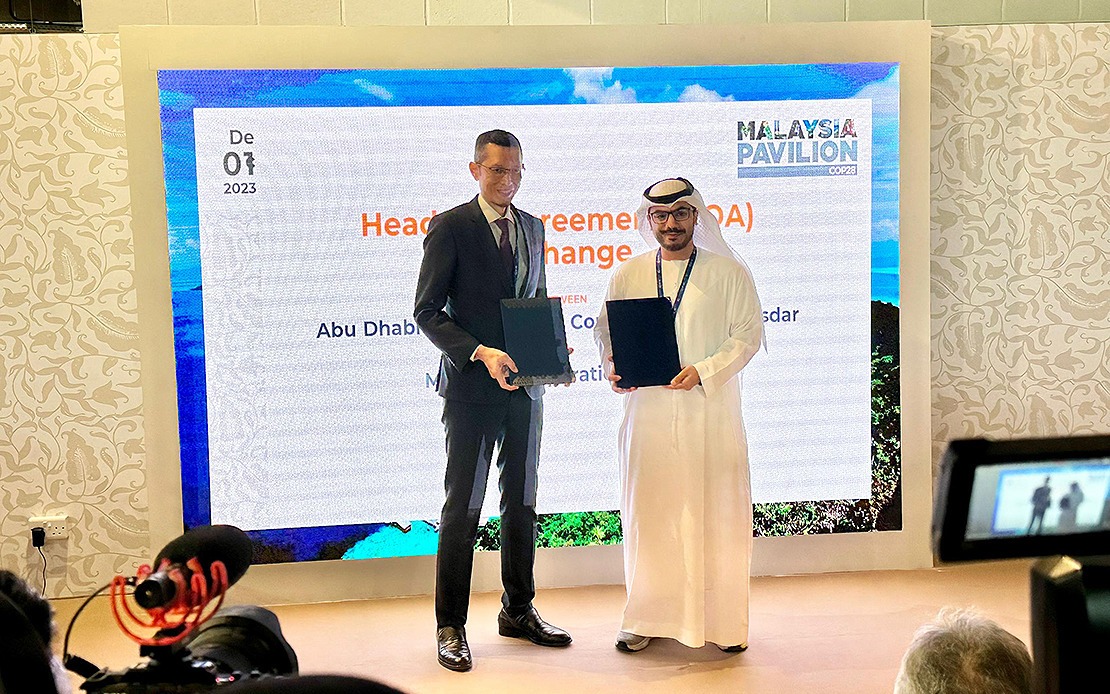 KUALA LUMPUR, 6 Dis (Bernama) -- Malakoff Corporation Bhd bekerjasama dengan Abu Dhabi Future Energy Company PJSC-Masdar (Masdar) untuk mengenal pasti peluang perniagaan yang berpotensi melalui pelaburan dan pembangunan projek loji tenaga fotovolta solar dengan kapasiti agregat disasarkan sehingga 1,000 Megawatt (MW).
Mou Cypark-masdar Akan Tingkatkan Agenda Tenaga Boleh Diperbaharui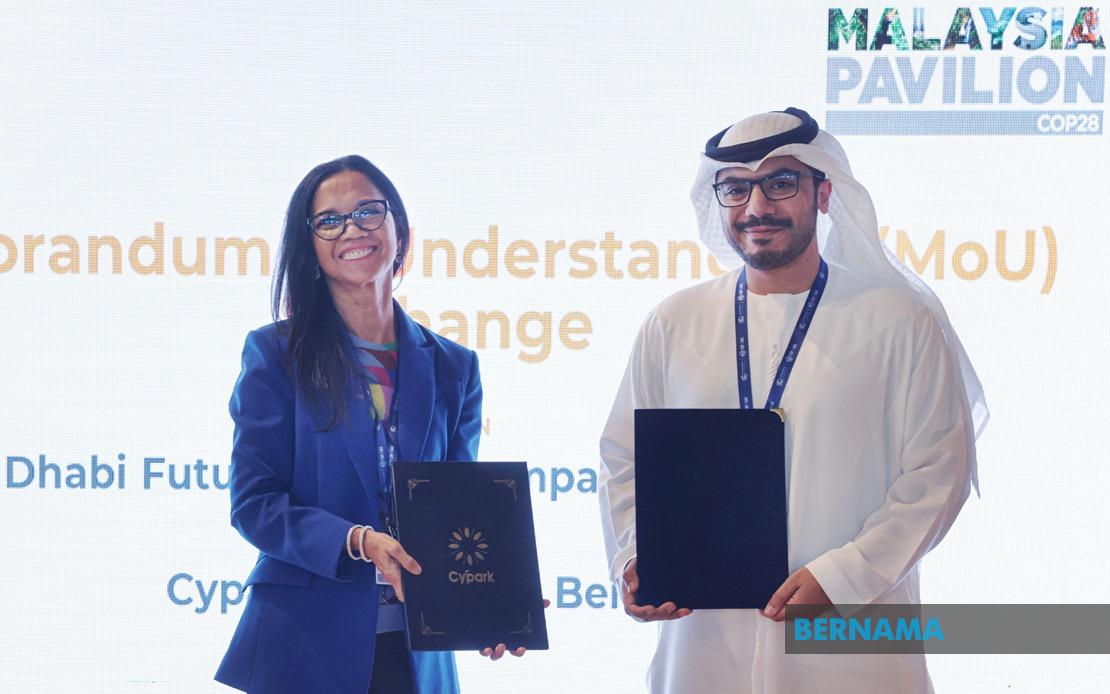 KUALA LUMPUR, 3 Dis (Bernama) -- Cypark Resources Bhd telah menandatangani memorandum persefahaman (MoU) strategik dengan Abu Dhabi Future Energy Company PJSC juga dikenali sebagai Masdar, salah satu syarikat tenaga boleh diperbaharui terbesar di dunia untuk memajukan agenda tenaga boleh diperbaharui Malaysia.
Tangani Pelepasan Daripada Sektor Tenaga, Industri Jadi Tumpuan Malaysia Dalam Perubahan Iklim - Agong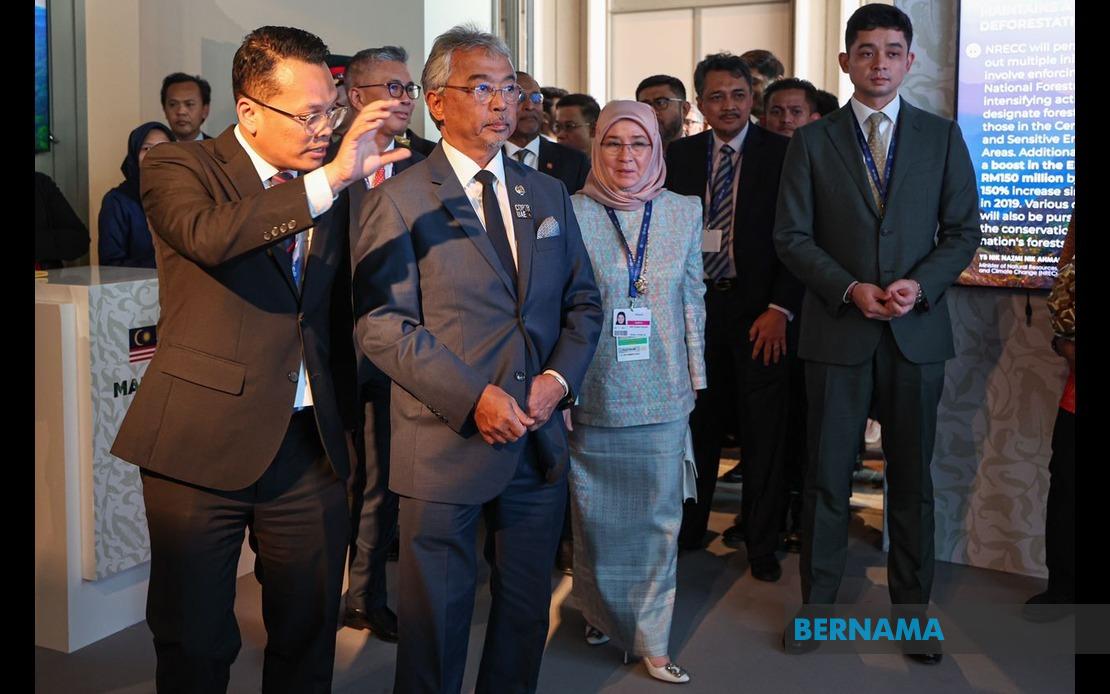 Daripada Anas Abu Hassan
DUBAI, 1 Dis (Bernama) -- Yang di-Pertuan Agong Al-Sultan Abdullah Ri'ayatuddin Al-Mustafa Billah Shah bertitah menangani pelepasan daripada sektor tenaga dan industri menjadi tumpuan tindakan iklim Malaysia berikutan ia menyumbang sebahagian besar daripada jumlah pelepasan karbon negara.